"Don't waste selling time in mundane follow-ups and busywork. RainmakerForce Sales CRM will present you a prioritized list of deals with steps to close and that show how far your customer is from purchase."
RainmakerForce: The only Sales CRM for reps to light-up and engage customers
Automatic Deal Prioritization
The Daily Playbook: Insights on which deals to prioritize
Shows which deals you need to spend your time on
Recommends next steps
Predicts whether deals are winnable
Generated in real-time
Your playbook is exactly what it is… your sales playbook on which deals to work on at any time. The Playbook is automatically tailored for your pipeline and quota attainment and guides you every single step of the way.
See which customers are most serious about Purchase
No subjectivity, build deals directly with customer purchase signals Fully transparent and verifiable
No guesswork or busywork needed. Get automated opportunity management entirely
100% transparent: See exactly where your customer is and which deals will close
RainmakerForce will ensure you message your value consistently to every customer
Get forecasts enriched with customers' answers to unanswered questions
Predictive: See now how your pipeline will be perform in future
How RainmakerForce helps you get customers to move with you
Use built-in
sales questions
Send targeted sales
emails to prospects
Light-up and
engage prospects
1. Proven sales questions that make your wins repeatable

Rinse and repeat wins simply: Built-in sales questions to move deals systematically
Manage deals with your company's value creation with built-in sales questions in every opportunity. You can customize these questions for your sales style, product or service, and your competition. Sales questions change by stage and are dynamically presented to keep you always moving deals forward.
2. Engage with sales emails and templates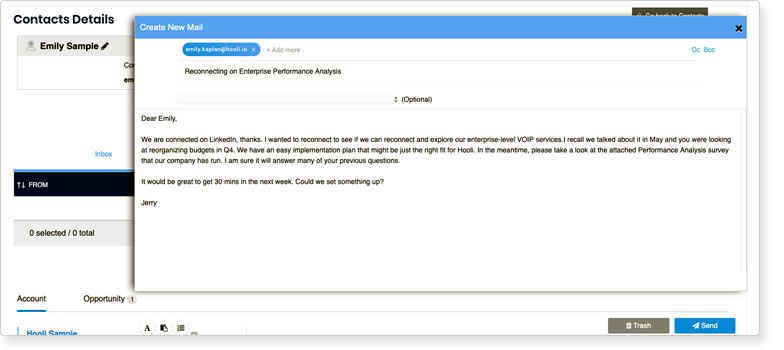 3. See who is most engaged and how high customer engagement drives more wins

Path to Win every deal… presented front-and-center
Your every action engineered to target the right deals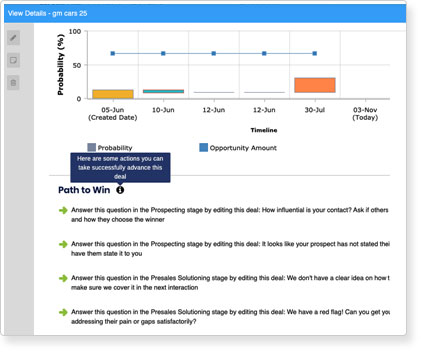 RainmakerForce analyzes your customer's purchase signals and your sales efforts and recommends the exact Path to Win every deal. Save time in guesswork and get deals closing at maximum performance!
Don't worry about where your data is…we have your back!
RainmakerForce organizes all your Leads, Contacts, Accounts and Opportunities neatly

Want to learn more? Let us help!